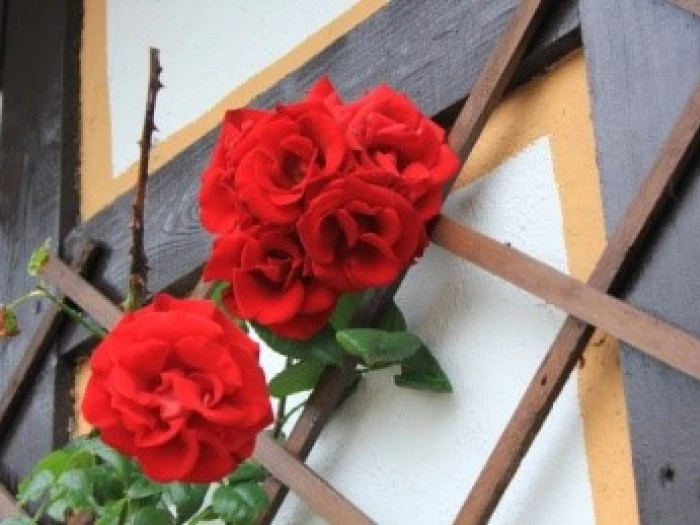 The Instant Garden
The gravel in our garden is great for keeping weeds at bay, but there are places where it can look a little bare. One wall in particular looks rather neglected and forlorn, standing next to its tidy but barren gravel patch. I decided it would be a good spot for a climbing rose – sunny in the morning until the sun goes behind the house later in the day. With help, a trellis was soon up on the wall, ready to support the growing stems, and a nice deep hole in the gravel patch where the stones have been shovelled to one side.
Once the rose was in the ground it seemed much smaller than when it was in its pot, the empty trellis stretching above it with little to do but wait for some growing to get under way. Over time, the rose will be taller than I am and will spread out to cover both trellis and wall with its leaves and pale pink blossoms, but not yet.
Freshly planted, the young rose sits in isolation among the gravel with no leafy neighbours for company, only brick and stone. And yet, all at once, this is a new garden. At a stroke I see it differently. No longer bare and sterile, the gravel patch and its naked wall have been commandeered, commissioned to a new purpose.
Once only boundary and weed defences, now the gravel is a fertile bed ready to nurture and sustain its leafy inhabitants, the gravel protecting from dehydration and unwanted intruders. The wall that divides us from next door and marks our boundary is now responsible for supporting the tender new shoots as they climb, soaking up warmth from the rays of the morning sun and keeping the cold at bay.
One small plant, not even fully grown, and instantly a barren byway has become a garden in its own right, with potential for beauty, fragrance and sustenance for wildlife. Nothing else has changed and yet the purpose and atmosphere of that place are different – and I feel differently about it.
When I think about it (and I never bothered before) I have a vested interest in it. I visualise what it will look like in the weeks and months ahead as it grows and then as it dies back in the waning of autumn. I imagine walking past it, admiring it, sniffing out its delicate perfume, tutting over its pests and diseases, taking defensive action on its behalf.
It has become part of my garden, my home, my personal space and my inner life.
Like a glimpse of the divine in the everyday, one small change can make a wholescale transformation in the world and the people around it.
Wherever you catch a glimpse of God today, plant it inside you like a small and precious rose, and let it transform you into a new garden with fresh identity, purpose and beauty too.
That's how God sees you.
You are my private garden, my treasure, my bride, a secluded spring, a hidden fountain. Song of Solomon 4:12
Thankyou to Katherine Atha, Local Preacher and member st Stokesley church, for this Thought for the Day.